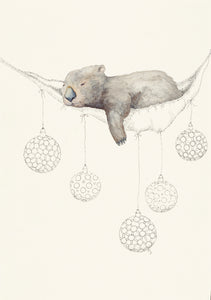 Waiting for Santa
Regular price $35.00 Sale
This is a water colour and Artline pen painting of a wombat patiently waiting for Christmas to arrive.
I've seen and photographed wombats many times in Tasmania's wilderness, especially on Maria Island, an island, off an island, off a bigger island.  There are hundreds of wombats on Maria Island, where I saw lots of wombats, including a baby wombat in a pouch that poked out its little hind foot and baby wombats running around with their mother. There's nothing cuter than seeing a baby wombat running! They are adorable!!
They are gentle animals and I try to capture that gentleness and calmness in my paintings of wombats. This one is ready and waiting for Santa to arrive.
Wombats are marsupials native to Tasmania and the mainland of Australia. They are herbivores. Female wombats give birth to a single young in the spring and the young leave the pouch after about six months.
This print is printed on William Turner 310gsm print version textured water colour paper, which retains the look and feel of water colour paintings.  No wonder I have so many people ask me if the print is an original painting!
A-4 and A-3 sizes of Waiting for Santa are a Limited Edition print run of 100, numbered, titled and signed by me, the artist.
A-2 and A-1 sizes of Graduation Siesta are a Limited Edition print run of 50, numbered, titled and signed by me, the artist.
If you'd like merchandise with this image (mugs, pillow cases, greeting cards and more), please visit Redbubble at: http://pjpaintings.redbubble.com 
All my artwork is copyrighted. They are my ideas coming from my imagination, drawings and painting. They are not to be reproduced in any manner without permission from the artist, Patricia Hopwood-Wade (pjpaintings@gmail.com).