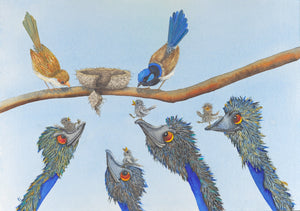 Cheer 'em Up series: "Helping Hands" - Emus and Fairy Wrens Watercolour
Regular price $35.00 Sale
Helping Hands is an image from my "Cheer 'em Up" series.  I have painted heart-warming scenes where an emu comes to the rescue and saves the day.  In this case, there are several emus on the scene to help return chicks back to the Superb Fairy-wren's nest. The chicks are thrilled with their emu-powered elevator ride, oblivious to the dire situation they were in before the emus came to the rescue!
This print is printed on William Turner 310gsm print version, textured watercolour paper with archival inks, to look and feel like a watercolour painting.  No wonder I have so many people ask me if the print is an original painting!
This image is also available on tote bags and zipper pouches that are Made in Australia and washable.
Tote Bags:
https://pjpaintings.com/collections/bags/products/tote-bag-helping-hands
Zipper Pouches:
https://pjpaintings.com/collections/bags/products/pencil-case-pouch-helping-hands
All my paintings are copyrighted. They are not to be reproduced in any manner without authorisation from the artist, Patricia Hopwood-Wade (pjpaintings@gmail.com).