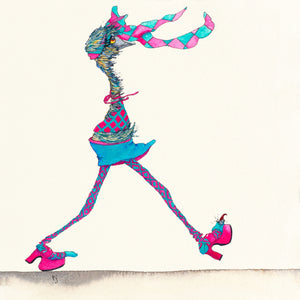 Bright and Breezy, a print of an Emu watercolour
Regular price $24.00 Sale
My emus have been Op-shopping and they have found some very funky outfits!!
This is a square shape image. The A-4 image's size is approximately 18.5 x 19 cm plus a border. This size are not limited edition prints.
The A-3 image's size is approximately 25.7 x 25.7 plus 2 cm border. The A-3 size and upward are limited edition prints (a print run of 100 in total) and are numbered, titled and signed by me.
This print is printed in Tasmania by Full Gamut on 310gsm William Turner watercolour print paper with archival inks. The paper has the same texture as the paper I paint on. No wonder so many people ask me if the print is my original painting!