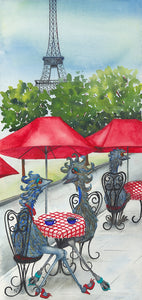 Café Paris
Regular price $24.00 Sale
I painted emus enjoying life, the sun, each other's company and a a cuppa with the famous Eiffel Tower in the background, in the equally famous city of Paris, France.
Prints are printed on 310gsm print version of watercolour archival paper with archival inks.  The texture of the paper and quality of inks used often generates the 'is this an original?' question.
The height of this print is the standard portrait dimension of an A-4, A-3, A-2 or A-1 size but the width is narrower than these standard sizes.  The width of the A-4 sized print is approximately 13.5 cm/6.14 inches and the height 30cm/12 inches. The width of the A-3 sized print 20 cm/9 inches and the height 42 cm/16.5 inches. The approximate image size of the A-3 sized print is 16 cm x 33 cm. 
 All sizes of this print is a limited edition print run of 100.
All images are copyrighted. They are my ideas from my imagination, my original artwork, and are not available for reproduction in any manner without permission from the artist, Patricia Hopwood-Wade (pjpaintings@gmail.com).