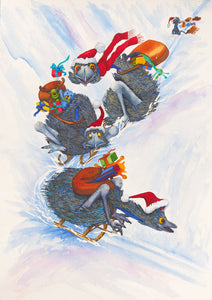 Christmas: Santa's Helpers - a print of emus helping with Christmas deliveries
Regular price $35.00 Sale
This print features a group of rather unusual recruits to help Santa with the busy Christmas schedule. Emus have put their hands (feet) up to help with the important task of Christmas present deliveries. This scene provides a unique and cheerful Christmas scenario to put smiles on faces.
This print is printed in Tasmania by Full Gamut on 310gsm William Turner watercolour print paper with archival inks. The paper has the same texture as the paper I paint on. No wonder so many people ask me if the print is my original painting!
This image is also available as a greeting card.  The greeting card has a photograph of the artist and that it is Made in Tasmania printed on the back of the card.
https://pjpaintings.com/collections/cards/products/christmas-greeting-card-set