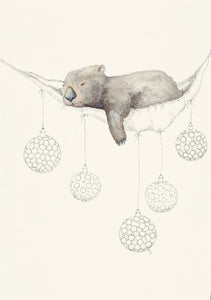 An original painting of a wombat Waiting for Santa SOLD
I've seen and photographed wombats many times in Tasmania's wilderness, especially on Maria Island, an island, off an island, off a bigger island.  There are hundreds of wombats on Maria Island, where I saw lots of wombats, including a baby wombat in a pouch that poked out its little hind foot and baby wombats running around with their mother. There's nothing cuter than seeing a baby wombat running! They are adorable!!
Wombats are gentle animals and I try to capture that gentleness and calmness in my paintings of wombats. This one is ready and waiting for Santa to arrive.
Wombats are marsupials native to Tasmania and the mainland of Australia. They are herbivores. Female wombats give birth to a single young in the spring and the young leave the pouch after about six months.
The original painting was available at Peppercorn Gallery, 58 Bridge Street, Richmond, Tasmania. There are quality prints of this painting available on this site: https://pjpaintings.com/collections/christmas