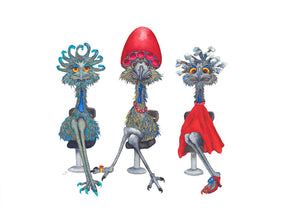 Glamour Girls - at the hairdresser's Watercolour Print
Regular price $24.00 Sale
This comical scene of emus at a hair salon will put smiles on many faces. With thickly applied eye shadow, nail polish, toe-ring and beads, they try to patiently wait for their curls and colours to set.  Glamour Girls, along with Glamour Girls II and III, make a great series, and conversation starter, wherever they adorn a wall or book shelf.
This is not a limited edition print. It is titled and signed by the artist.
This print is printed on William Turner 310gsm print version textured water colour paper, which retains the look and feel of water colour paintings.  No wonder I have so many people ask me if the print is an original painting!
If you'd like merchandise with this image (mugs, pillow cases and more), please visit Redbubble https://pjpaintings.redbubble.com and/or search: Patricia Hopwood-Wade.