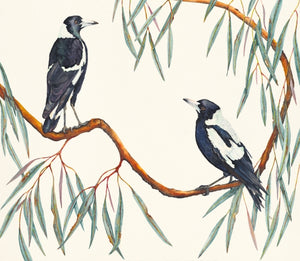 Maggie & Maggie prints of a magpie watercolour painting
Regular price $24.00 Sale
Australian Magpies are found throughout Australia, including Tasmania, where I live.  The distinctive melodic birdsong of the magpie is synonymous with Australia and the Australian bush. It's a special way to start the morning, hearing their melodious, songlike greeting when you are lying in bed. 
This print is squarish in dimension, and pairs up well with "Meet Me at the Gate" and/or "Blossoming Friendship". It is not a limited edition print run except for the A-2 size, which is a limited edition print run of 100 and the A-1 size is a limited edition print run of 50.
The approximate image sizes are:
A-4 sized print is 21 x 22 cm 
A-3 sized print is 24.5 x 25.5 cm 
A-2 sized print is 36 x 36 cm
A-1 sized print is 51 x 51 cm
These are the approximate sizes of the actual image. The image has a border around it so the overall print is larger than the dimensions above.
All my prints are printed on 310gsm watercolour paper with archival inks by FullGamut, a Fine Art Printer in Hobart, Tasmania. No wonder so many people ask me if the print is an original because the colour and textured paper is of such high quality!  
All my paintings are copyrighted. They are not available for reproduction in any manner without authorisation from the artist, Patricia Hopwood-Wade (pjpaintings@gmail.com).