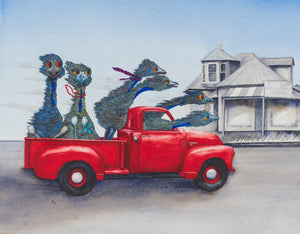 Red Ute - A print of an Emu and Red Ute Watercolour painting
Regular price $35.00 Sale
Dressed up for the occasion, and a shiny red ute (pick-up truck) as their choice of transport, these emus know how to travel in style and how to make a grand entrance!
This print is printed on William Turner 310gsm print version, textured watercolour paper with archival inks, to look and feel like a watercolour painting.  No wonder I have so many people ask me if the print is an original painting!
 If you'd like an A-5 sized print (15cm x 21cm) $15.00, plus $5.00 postage, please contact me at: pjpaintings@gmail.com. If you'd like merchandise with this image (mugs, pillow cases and more), please visit Redbubble https://www.redbubble.com/people/pjpaintings?asc=u and search: Patricia Hopwood-Wade.