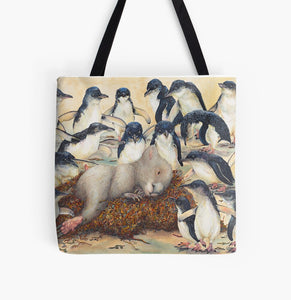 Tote Bag: Goldilocks and the 20 Penguins
Regular price $30.00 Sale
A group of little blue penguins, after having their dinner, jump out of the ocean and waddle up the beach to their nests to discover they have a surprise visitor using their nest. The sleepy, little wombat looks very comfortable. They aren't quite sure what to do?!
Little blue penguins, the smallest of the penguins, nest and breed at many different sites in Tasmania. I have watched them come ashore and at their nesting grounds. It's a privilege to see them and wombats, both wild, and in Tasmania, where I live.
These bright and sturdy tote bags, with the "Goldilocks and the 20 Penguins" image printed on both sides, are Made in Australia, are 100% polyester and wash up a treat. Put them in a lingerie bag for extra protection and cold machine wash.  They come in a small (approximately 33 cm x 33 cm), medium (approximately 39 cm x 40 cm) or large (approximately 46 cm x 46 cm) size. 

All my paintings are copyrighted. They are created from my imagination and are not available for reproduction in any manner without permission from the artist, Patricia Hopwood-Wade (pjpaintings@gmail.com).